Apartment Therapy Transformed a Live Design Pop-Up Into a Digital, Shoppable Experience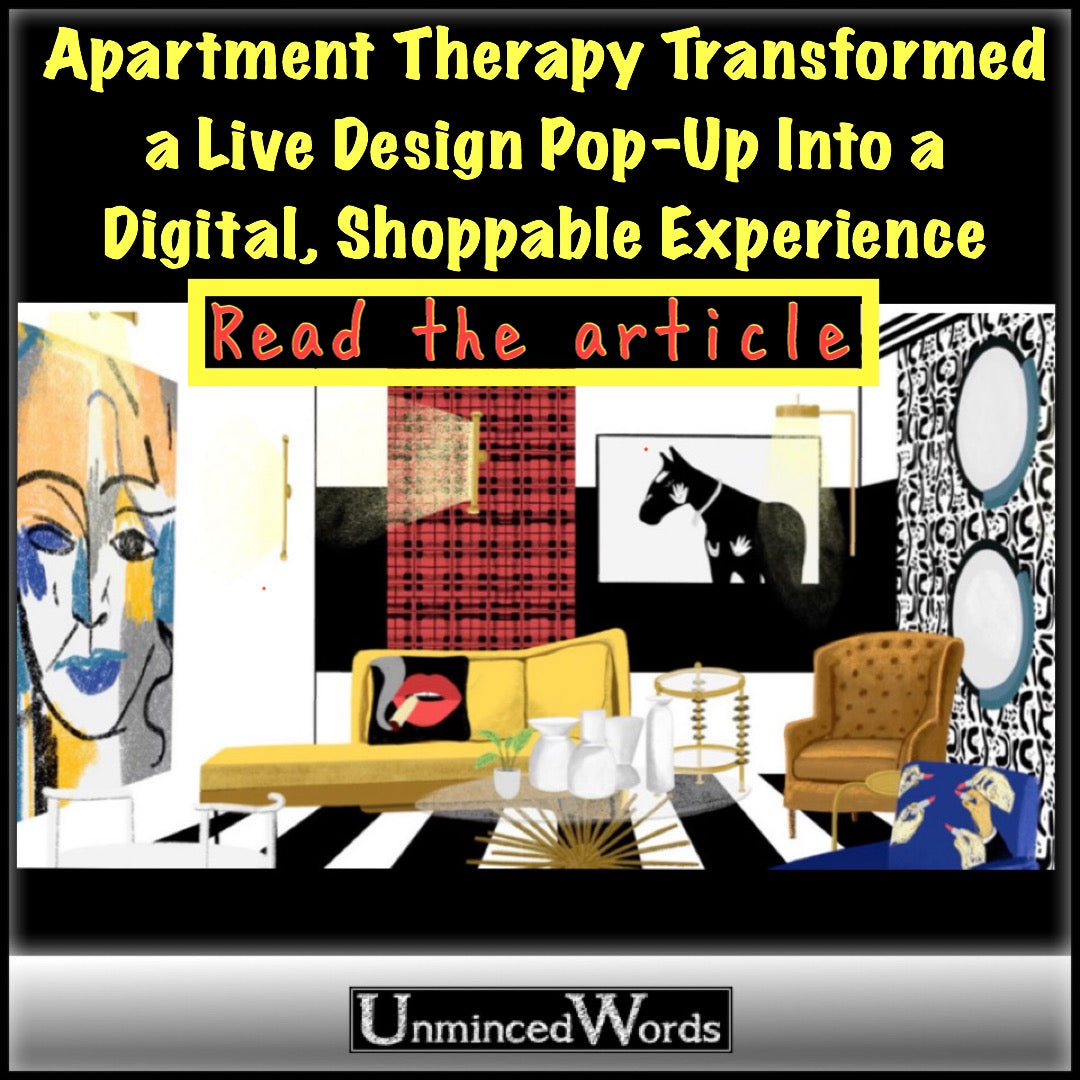 Small/Cool Experience in Brooklyn became a global online event
Apartment Therapy expected to draw some 10,000 people to Industry City in Brooklyn for its first-ever Small/Cool Experience in April. The interior design- and lifestyle-focused website had tapped 20 designers to curate 20 shoppable spaces under 120-square-feet that would highlight forecasted 2020 design trends.
However, before Apartment Therapy could begin the physical builds for the two-day pop-up, the Covid-19 outbreak hit New York. After initially pushing the event to June, the brand's internal event team and partners realized in early spring a real-life pop-up wouldn't be feasible anytime soon. So the brand did what many brands are doing with experiential projects during the pandemic: It went back to the drawing board to determine how to best deliver quarantined fans a safe, timely experience.
The brand landed on the Small/Cool Experience at Home, a three-day digital event benefiting Habitat for Humanity New York.
The event, which ran May 15-17, featured the designers' 20 shoppable showcases on Apartment Therapy's homepage and event microsite. The event also incorporated the designers into three days of live and pre-recorded event programming on Instagram, which also offered interactive design games for its audience.
Maxwell Ryan, CEO and founder of Apartment Therapy, said the brand chose to do a virtual event to spotlight design trends that are still relevant amid the pandemic. With the brand's audience stuck at home and even more invested in customizing or sprucing up their living spaces, Ryan noted the event's content would resonate.
Ryan said the brand also timed the virtual event in response to an uptick in site traffic and the return of the brand's Small/Cool contest this month, an annual editorial program that was on hiatus since 2016 that invites readers to vote for their favorite small living spaces around the world.
"Apartment Therapy specializes in real moments and people, especially younger people who have smaller spaces," he said. "Given the fact that we're all stuck at home, that became more of an emphasis. We didn't have to change the focus of the rooms, but we felt we had to do the event bigger since people couldn't come to Brooklyn."
Since Apartment Therapy hadn't yet built the pop-up spaces to photograph, it tapped each designer to curate mood boards for their trends. In-house, the brand illustrated those trends and turned them into animated videos, with clickable links popping up around each product to purchase.
The animated rooms include Fields of Color by Orlando Soria, Crystal Influence by Abbe Fenimore, Art Deco Influence by Gabriela Gargano, Mix and Match by Carmen René Smith and Maximalist Boho by Jessica Brigham.
"We had all these amazing visions from designers we worked with, and we felt so much work already went into this. We wanted to figure out a way to expose that," said Riva Syrop, chief revenue officer at Apartment Therapy. "What's also cool about this is it gives the designers a bigger platform than they would've gotten."
The pages for each video, which will live on the site through July, also include blurbs about each designer's room inspiration and a list of every item featured with links to retailers' sites to purchase. For the physical event, attendees would have used a mobile app to scan QR codes on each item available for purchase.
When it came to developing the event programming on Instagram, Syrop said the brand "wanted to educate, provide service and provide entertainment value. But we also knew our audience wanted to get involved."
During two- to four-hour windows each day, the brand used its Instagram feed, Stories and Live to offer everything from live designer panels and show-and-tell style chats to design trivia and guided meditation. The brand also offered interactive games including scavenger hunts and mood board templates for the audience to design their own rooms and share on their Instagram Stories.
Apartment Therapy also managed to keep four of its eight original sponsors for the virtual experience. The brand integrated Behr, Amazon Handmade, Chasing Paper and Tuft and Needle into the animated showcases and the Instagram programming.
Behr was the official paint partner for most of the rooms, while Chasing Paper was the wallpaper partner for eight showcases. Certain sponsors also partnered with designers: Maker Made by Shavonda Gardner featured Amazon Handmade products and the Dark Side by Angela Belt featured Tuft and Needle products.
And prior to the experience, the brand invited its audience to vote on the colors for a mural that artist Liz Kamurul created with Behr paint, revealed at the end of the event on Instagram. Syrop said more than 16,000 readers voted.
Ryan and Syrop noted executing a multihour online event was arguably more complicated than producing a physical one would have been. While the live pop-up would have used one production partner to build each space in one room, they said the at-home event required more moving parts and nearly every internal departments' talents.
"Working from home, it all has to be so much more organized. Many brands have already done these virtual events, but there was still a big unknown factor for us," Syrop said. "We wanted to make sure the audience [was present] and that the content was compelling enough for them to be a part of it. There's so much more pressure to do it this way."
By Ian Zelaya
come visit www.UnmincedWords.com & get urself a reward #therapy #apartmenttherapy #shoppable #redecorate #designer #homedecor #decor #unminced
TRENDING COLLECTIONS